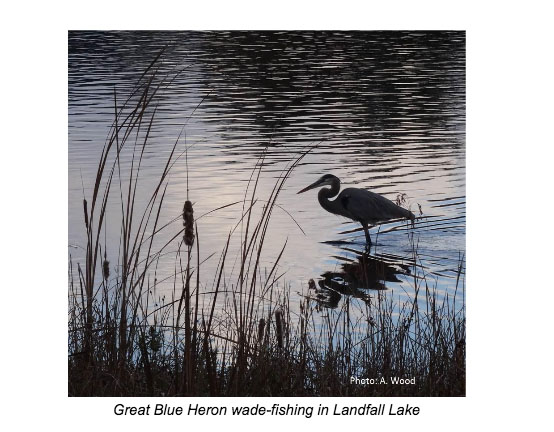 The Conservancy is negotiating a land acquisition to protect a 39-acre tract of undeveloped property inside the Landfall community. The parcel raises the Conservancy's total protected habitat area inside Landfall to more than 400 acres.
We have retained the services of Andy Wood, through his company,  ANDY WOOD & ASSOCIATES, LLC, to provide environmental assessments on our current properties, recommend habitat management strategies, and conduct a variety of other tasks as deemed necessary for the benefit of the Conservancy and the properties it oversees.  Property assessments are very detailed and follow a plan that meets accreditation guidelines.  Andy and his team have found and documented some wonderful plants and animals on our properties and easements.  His work will continue until all of our parcels are documented.  These reports will serve as a baseline for future comparisons to monitor deterioration or any possible contamination.
At least twelve species of amphibians (salamanders and frogs) were observed in and around ponds located within Conservancy properties. The Amphibians, valuable indicators of environmental quality, include two-toed Amphiuma (a large eel-like aquatic salamander in Landfall Lake) broken-striped newt, slimy salamander, and two-lined salamander. Observed frogs include southern toad, southern cricket frog, spring peeper, pine woods tree frog, gray tree frog, squirrel tree frog, green tree frog, bullfrog, green frog, southern leopard frog, and narrowmouth frog. More work is needed to confirm additional expected species.
To date, more than 120 species of birds are known to use Conservancy properties during all or part of their life cycle. This number will likely grow as more data is collected, and birders are invited to provide us with their avian and other observations.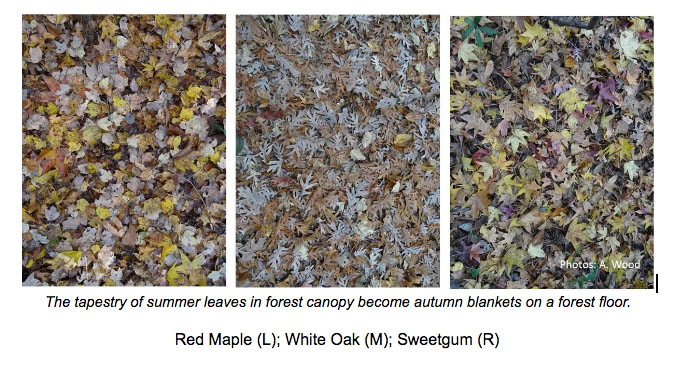 Red bay trees, Persea borbonia, the namesake of egg-shaped landscape depressions known as Carolina bays, are dying throughout the southern US, including within Conservancy properties. The die-off is due to a fungal infection transmitted to the tree by a tiny Asian beetle introduced to North America by way of shipping pallets. There is no cure or treatment and at this time we can only monitor the tree decline and hope some specimens are able to resist the blight.
These habitat surveys of the Conservancy's conservation easement properties have been very productive. The studies are being conducted to collect baseline information about the habitats themselves, including their overall condition and ecosystem services they provide to southeastern North Carolina. They are an ecoregion that contains a rich assortment of habitats supporting a diverse array of plants and wildlife, which in turn enrich the lives of people who inhabit and visit this special place.
The Northeast New Hanover Conservancy stewards 1,500 acres of diverse habitats, including some of the best remaining examples of southeastern North Carolina's ecosystems. And the great wonder of it all is the fact that these acres are located in and around the residential areas where we live. It may be safe to say that these protected places are some of the best-kept secrets in our community.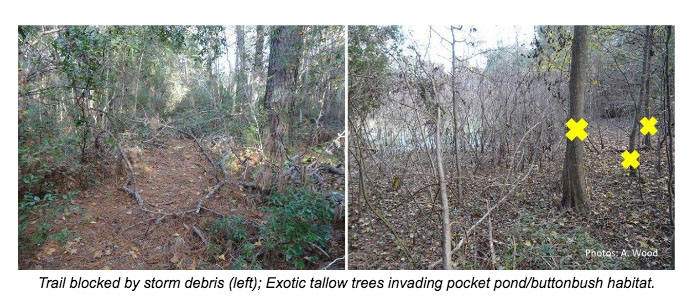 But as "best-kept secrets" these places are easy to overlook and take for granted. While the properties may be protected from development, they are vulnerable to neglect that can lead to diminished value. Wild places, especially small parcel habitats within residential neighborhoods can languish if not properly managed in keeping with their natural form. An example of this is best seen in the 39 acre tract being negotiated for trade. While I can extoll the property's many natural virtues, I must couch my words with understanding that the property needs some tending; clearing vegetative storm debris from trails and removing invasive exotic trees (notably Chinese tallow) as examples.
Managing this and other Conservancy properties is not all work and no play however. These places can be augmented with interpretive signage that introduces visitors to the habitats they stroll through. And most sites offer opportunity for volunteer science projects including nest box installations to help cavity-nesting songbirds, owls, and flying squirrels. Additional projects involving pond turtles, painted buntings, and other species and their habitats are ready to implement, along with conservation education programs for groups and individuals; just as soon as we have the financial resources to make them possible.
While this may sound like a shameless pitch for money, it is intended as a transparent request to support the Northeast New Hanover Conservancy's efforts to steward its compelling natural areas; the greenspace oases that enrich our lives, right outside our doors.
Great Blue Heron wade-fishing in Landfall Lake
Financial donations to the Conservancy are tax-deductible because they fund work that contributes to the common well-being of our community; a community that includes people, plants, and wildlife; and the habitats that support us all.